Your shopping cart is
currently empty. Please add some items to continue





bluebell photos, prints & canvas artwork in sussex
Sussex Photos offer Bluebell Photos, Prints & Canvas Artwork perfect for your home or office.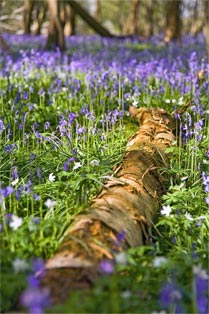 You can always tell when spring has sprung and the magic of a new season is upon us.  The anticipation of warmer days to come is in the air, people are smiling, bodies are being warily dressed in shorts and t-shirts, and we dream of summer months lazily rolling past in a haze of pimms and bathing in the suns' glory. 
But some of the most magnificent spring miracles happen in places which mean that the majority of us miss them altogether.  By that I mean the bluebell fields, which occur in woods and fields across the UK every spring, but unless we are avid hikers, cyclists or dog-walkers most of us miss this spectacular vision. Sussexphotos are pleased to offer you a large selection of bluebell photos from bluebell fields around sussex. 
There is nothing like a walk in nature during spring time.  The smell of the bark, the spring breeze warming your face, the lazy shadows waving their eerie magic over you, the scuttle of tiny feet in the undergrowth and the most glorious colours in nature. 
Of course there are blossom trees, poppy fields, daffodil banks…but nothing tops the stunning shades of blue, indigo and lilac which appear year on year within a bed of bluebells as seen in the bluebell photos we offer. 
Another great quality of this delightful little flower is how well it can be captured by a camera.  Bluebell photos can hold a real sense of atmosphere and calm.  Somehow, looking at sun dappled carpets of this beautiful flower, or a single curved head or open face warming itself in the sun, you can sense the tranquility I felt as I took the bluebell photos.  
Some recent Bluebell photos from the Sussex Photos Library: (Click photo below for more information)
If you managed to miss the glorious wonder of nature that is the bluebell forests this year, then don't be disheartened.   Some of the most stunning shots are out there on our website you to find and relive the magic.  A sea of bluebells crops up over the Sussex woodlands every year, and the Sussex Photos Library holds some of the most gorgeous bluebell photos ready for you to display in your home or office
Enjoy natures finest in this fabulous collection of bluebell photographs: See our Bluebell Photos here >> 
We also offer corporate license for commercial image use more details available on request,
please contact us
>>

SussexPhotos.co.uk © 2023 - Photos Pictures and Prints to Buy - Run by Dreamshock Design Ltd
Tel:
0844 589 9806 -
Email:
info@sussexphotos.co.uk